However, while analysts agree the missile could have travelled more than 13,000km on a standard trajectory and reach the US, they have cast doubts over whether the missile would have been able successfully to carry a heavy warhead that distance.
They do not believe North Korea has mastered the technology to prevent the warhead from breaking up as it re-enters the Earth's atmosphere.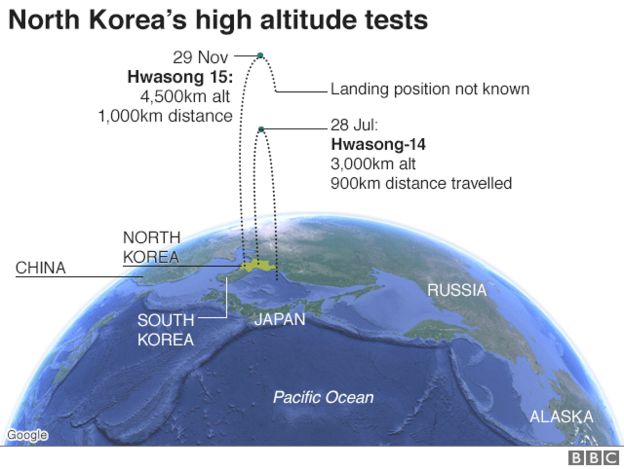 Reuters news agency reported on Sunday that research was under way to locate new sites on the US west coast for the possible installation of Terminal High Altitude Area Defense (Thaad) anti-ballistic missiles, similar to those already deployed in South Korea to protect against potential attacks from the north.
It quoted two congressmen, who said the Missile Defense Agency (MDA) was aiming to install extra defences, although no details on locations or timing were given.
However, the MDA, which is part of the US defence department, says it has not yet received instructions to deploy Thaad systems.
Two Thaad systems have already been deployed to South Korea and the US Pacific territory of Guam, which is 3,400km from Pyongyang.
In August, Kim Jong-un announced plans to fire medium-to-long-range rockets towards Guam, where US strategic bombers are based alongside more than 160,000 US citizens.
Thaad systems are able to shoot down short and medium-range ballistic missiles in the terminal phase of their flight using hit-to-kill technology where kinetic energy destroys the incoming warhead.